The sunlight filled Sandy's new room with a golden glow. She'd just waxed the floors again to a mirror shine and redecorated. She was very proud of how it was coming together. The honey-like wood was becoming her favorite color. It was the start and end of every new wonderful day in Fable.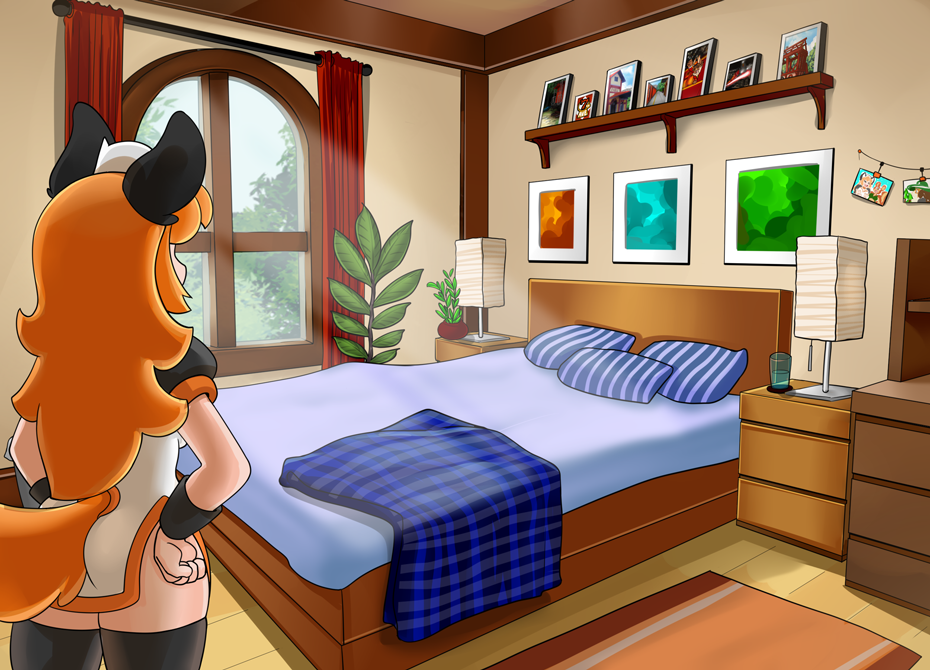 Sandy didn't know if she was paid well when she first saw Fable money. Maxine doled the feather-stamped coins to her at the end of her second week, just like if she were being paid back home. It was quite the stack and Sandy had only gotten a sense of how much it was selling food. Sandy's budget was so incredibly strange to her now. She had no bank account to worry over, no credit cards that were out of control. Just a small sack of money in a town she could easily jog from one end to the other in an afternoon. Life was much simpler now. She ate in the cafe and slept in the rooms above it, so all of those costs were wrapped into her pay. Maxine looked incredibly smug when a lot of that money came right back to her, too. Sandy bought two lamps and some simple pictures to fill up her empty walls. The look of shock on her face when she turned them on without electricity got Maxine to laugh long and hard. There were so many subtle fantastical things here that Sandy had trouble getting used to. Sandy then bought some pajamas and slippers to fill her empty dresser. And last she got some pencils, paper, and a single glass with the last of her money. It was at this point that she realized she didn't make that much. But regardless, she was proud. Paying for rent, food, and having a bit extra for clothes in just a couple of weeks put her mind at ease and she felt the deep anxiety of city life draining out of her with every new day. She spent entire minutes taking in how beautiful her new room looked.
The bed was firm and comfortable, just as she liked it. And the spring weather was heavenly. She could rest under the linen covers or sleep on top to take in the breeze, wishing she had books to read by her strange magical lamps. That's why she bought the pencil and paper. If she couldn't read, she could write. After her daily journal entry, she'd spend the rest of the time learning to draw. Sandy never could decide if she wanted to be an author or an artist. But now she had the time to casually push toward both. All of those skills were a waste of time where she used to live. But now she had time, sketching flying trains in the margins of her journal. The last decorations in her room were photographs taken by Maxine's antique camera. She tied them on string and mounted her favorites on a high shelf above the bed. The small splashes of color from Kona's red train, Miko's blue uniform, and Jill's green suit added just the right balance to the warm gold that was everywhere. That's actually why Sandy bought the simple pictures, too. One red, one blue, and one green. It reminded her of her new friends.
Maxine was less of a friend and more of a parent now. She gave out friendly advice and very harsh criticism in equal measure. It was hard for Sandy to relax around Maxine. She was very demanding, wanting the absolute best for them both. Nothing short of perfect would do. It was exhausting. And on that note, Maxine decided to remind Sandy that today was a very important day yet again, just as she had done every day that week so far.
Sandy! Sandy?! Are you awake and dressed?!
Yes…
Oh my gosh. You cleaned up again! It's different every time I look in here.
I think I got it just right this time. What do you think?
I envy your open spaces, that's for sure.
I don't think there will be a day in which I can see my floor clearly again.
Are you prepared for the very important meeting we discussed-
Yes. Yes! I've got it!
Oh my gosh, you keep telling me.
I can't let this one go. The women coming off that train today are very big deals where they're from. Consistent visits will mean a lot for Fable.
And a certain someone's business interests…
You do look wonderful, though. So please get to the station as fast as you can. Kona should be arriving-
In half an hour… I know. I know.
I've even prepped brand new desserts for them. You said one of them has pink fur, right?
… yes?
I've made some rose cupcakes with a butter creme. Hopefully that will impress them.
Oh, Sandy. You're really finding your footing. All your responsibilities and you still had time to make a welcome package?
Lovely. I'm proud of you. Let's just say that if these two walk out of Kemono Cafe saying they like it here, there will be a nice healthy bonus in it for you.
Treat them like queens, sweetie! Spare no expense!
I won't let you down. I've got this.
---