Sandy was shaky and sweaty as she left Pageturner Ranch with Elizabeth. Elizabeth was very strong, Sandy could tell, because this large pack of groceries was easily hoisted to one of her broad shoulders. Sandy was jealous of that kind of strength. Now that Sandy knew of it, she wondered what kind of monsters Elizabeth had beaten at the forest's edge.
I feel so incredible!
And you look like you've been through double shifts. Isn't that a little strange?
Huh… well, yeah. I was so drained after work. And then we ran out and it go so much worse.
You can write it off as adrenaline. But it's been long enough for you to calm down.
What you're feeling right now is the power of the spirit, something I hope everyone learns someday.
I owe you a lot for that lesson.
You can pay me back by tolerating my orders at the café. I'm not a light eater.
Haha! I did say you'd like me a lot less when you work for me. Maybe I'll be another Mora and Reiko!
I'd love it if you came over. This is your first time at the café, so I'll make it special.
Hey, you were listening.
You'd be surprised how little of that it takes to make a difference.
The road to Kemono Café felt so much shorter coming back. Elizabeth was quiet thanks to the haul she refused to let Sandy carry. But she obviously was grateful to be rid of the load just outside the door. Mora and Reiko were immediately visible, still up and dancing with what few patrons were left. It looked like they'd chased out anyone who wanted to eat in peace and had turned the café into a loud messy bar.
So there they are. What should I do…
I'm gonna sound like a broken record if I have to explain it.
Right… I think I get what you mean.
Gotta say, though. It's a shame I'm so late to the party. Those two look fun.
Sandy looked out in front of her and squared her shoulders. When she opened the door, she almost threw it open by accident and didn't mind that a few of the patrons saw her. Kona, thankfully, was not there any longer. She didn't want Kona to see this.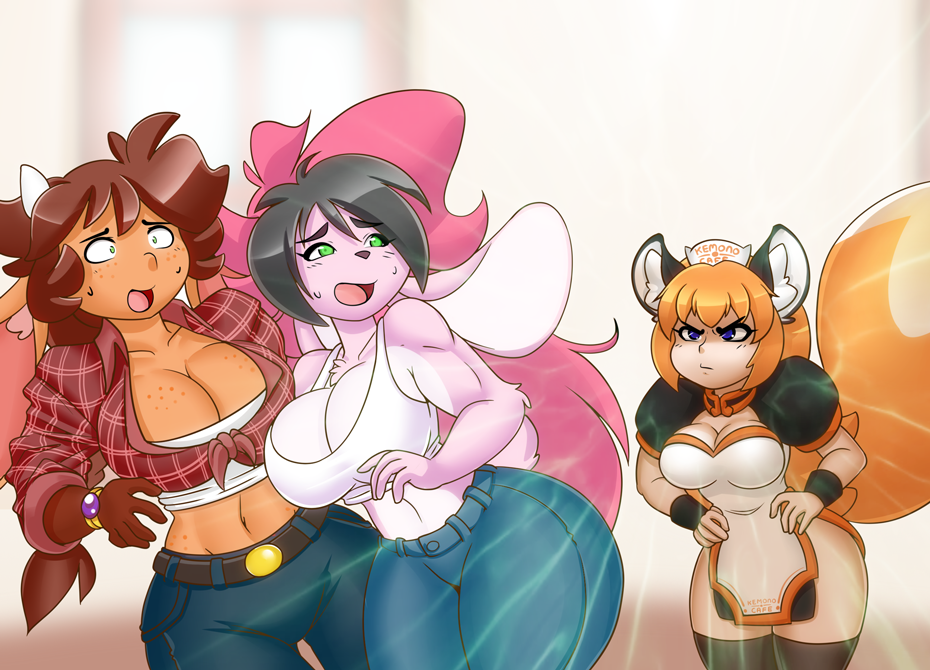 There's our girl! You got the new round of food?
What's on the menu, Sunny? Because if it's the same one-
Sandy.
Er- what?
My name is Sandy. And I'll be your server this evening.
Do you feel that vibe, Mora?
It's like she's a demon…
Pfft. She's not a demon. Look at how sweet she is.
And I will be glad to take your orders for a another round. But there's other customers I need to see first.
I apologize for the delay. It's just me here today. I also need to ask that you're respectful of the other customers by staying in your seats and not yelling so loud.
Awww… C'mon. We were just having fun.
Those are the rules…
And in my café, you will follow the rules.
Okay! YEP! Definitely a demon!
Take all the time you need… haha, we really cleaned this place out.
Would you mind helping me put this food away, Elizabeth?
I'll pass, actually. I'm beat. Mind if I hang out with you two for a bit?
Hmm, yeah. What're you drinking?
Pass me some of that crap you snuck in. I can smell Jill's handiwork all the way down the street.
Hahaha!
So many hotties to drink with… I love this town.
That makes two of us.
Aaaaah… Yeah, that's Jill's alright. Looks like I'm heading home in a cart today!
What do you do around here?
Isn't it obvious, Mora? She's the shrine maiden that keeps Sunny's demon in check.
!
…?
SANDY!
I'msorrySandypleasedon'teatme!
Yeah, she's hard to keep down. See that shoe? She kicked a glorp clean in half on the road.
What the heck is a glorp?
Let me tell you the story of the weirdest Thursday night of my life…
I'm going to pay you back for all your help, Elizabeth. I promise.
Liz.
Hmm?
Call me Liz. Only Maxine calls me Elizabeth because… Eh.
Let's just say some people think organizing their sock drawer is a fun Friday night. That's who they are.
Ohhh, I've got one of those back home!
But I don't dare say her name right now.
Screw that. Tell me about that Thursday night!
Ahahaha!
Oh, and Sandy?
Burgers?
Burgers.
---