Hello and welcome all you wonderful customers to 'America's Most Livable City' of Pittsburgh, Pennsylvania. If you're walking about, pull up a chair as you are welcomed to read this riveting summary of our recent trip.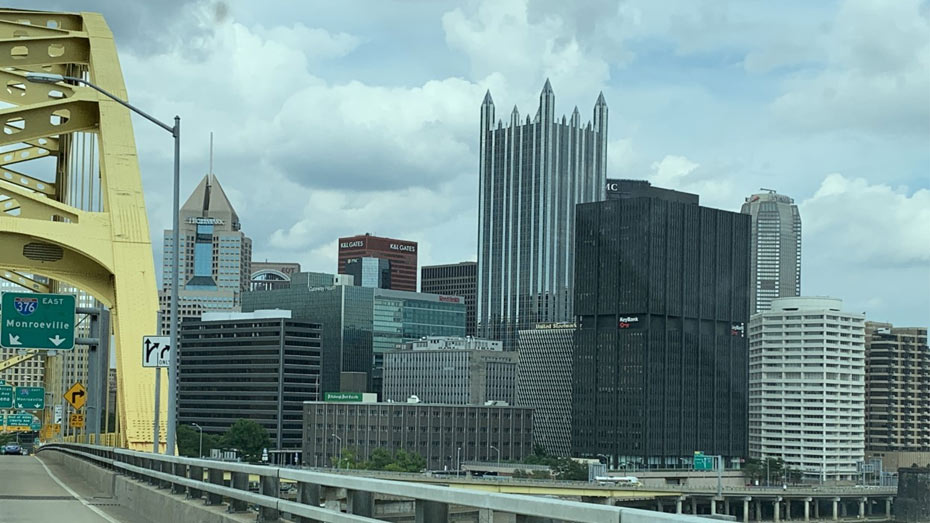 For those unaware, the city of Pittsburgh is home to the annual Anthrocon Convention (https://www.anthrocon.org/), and is the largest of it's kind.  The spectacular four-day event is held in the David L. Lawrence Convention Center, normally on the first weekend of July.  In fact, for this year, it was held on July 4 through July 7, which was perfect as we had seats to some amazing Fourth of July Fireworks.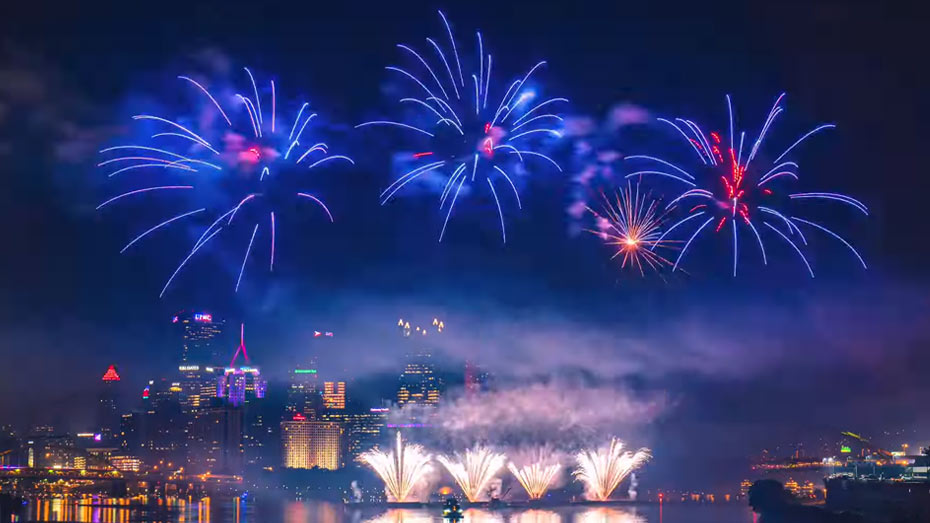 The real fireworks and celebrations happened on Friday as that was the day that the doors opened to the Dealer's Den, where we represented Kemono Cafe at Table P10 with exclusive artwork, art books, prints, 3D Models, stickers, and so much more courtesy of Nekonny. In fact, Sandy, Maxine, and Kona even made an appearance on the Escapade.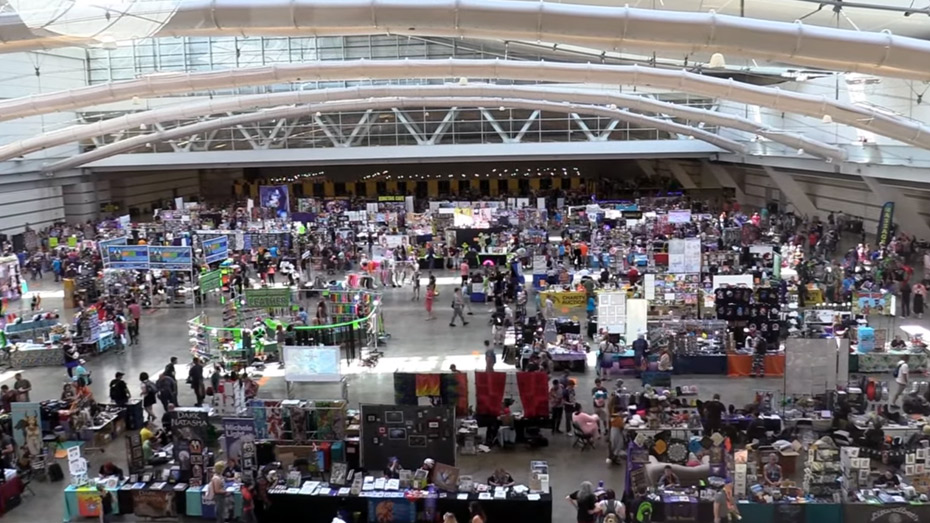 The main convention hall is a huge sunlit space, housing hundreds of dealers and artists alike. From outfits to posters to even customized artwork, you could find just about anything there.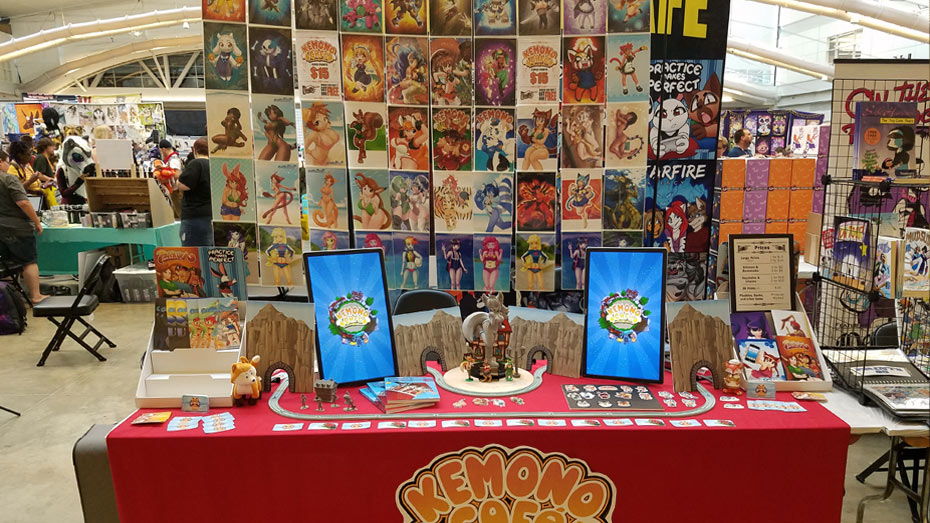 The Kemono Cafe project was proud to host it's official launch during Anthrocon, which proved to be the perfect venue for it.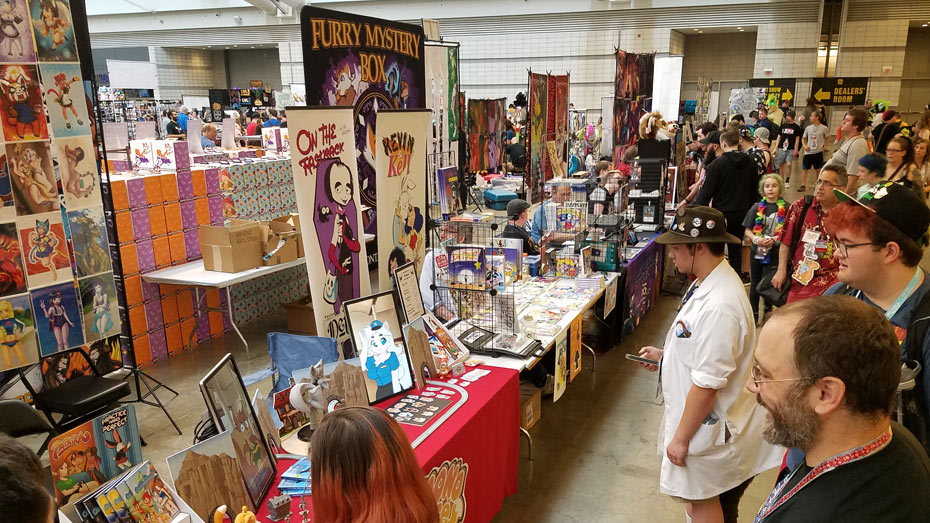 During the three days of the convention we had the honor of introducing the Cafe to both guests and other artists, who were curious about the animations and figures we had on display.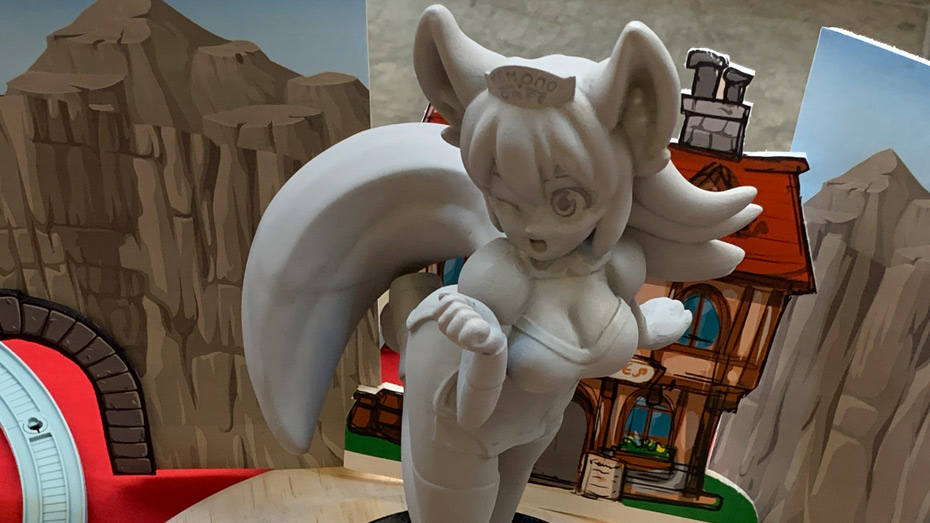 Our centerpeice was a large 12″ model of Sandy, the Cafe's mascot character. But a big hit with our visitors was the working Escapade train set, which chugged along the table, weaving in and out of tunnels and around the screens.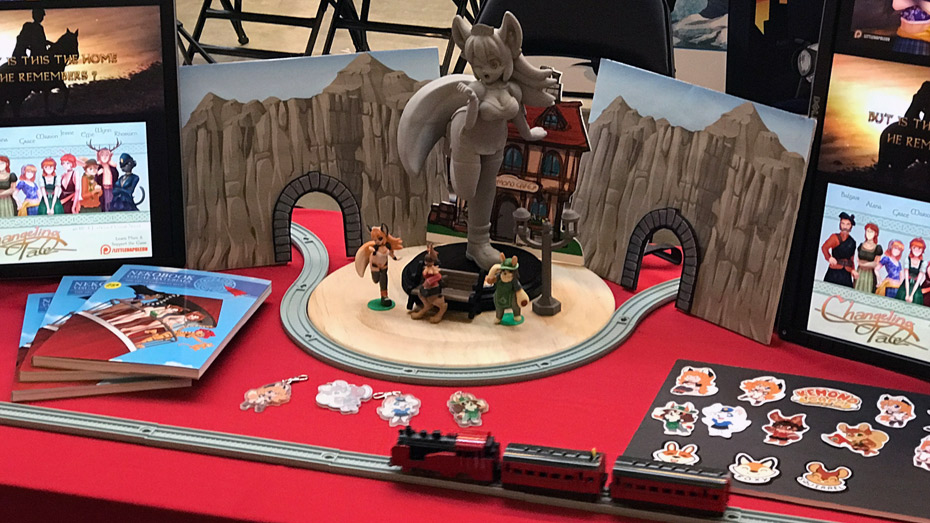 Kona (Shouting): ALL ABOOOAAARRRRRDDDDD!
Our video screens showcased over 15 min of animations and other furry related projects, including "Changeling Tale" a +18 visual novel that is currently under production.
I would like to thank all the fans that came by the table to buy, chat, and support this new endeavor.
Sandy (Bowing): It was great meeting all of you, and we look forward to your next visit!
I would also like to take a moment as a shoutout to the friends and coworkers that we were lucky to have as our neighbors, such as Mastergodai, Tony, Nai-Chan, the Katbox, Chalodillo, Avencri, Jesonite, Kadaff, Tom Fischbach of Twokinds, and SageSaga. Not to mention the dozens of other friends that were also visiting the con! It was great hanging out with all of you.
I wish it could have lasted forever, but like all good things, it had to come to an end. Cleanup was somewhat of a breeze thanks to a certain squirrel.
Jill (Confident): Piece of cake.
SFX: *Slash* *Slash*
Maxine (Horror): MY TABLES!?!?!?
See you at the next convention folks.
Photographs courtesy of MrAMP, Tharkis and Nekonny